Swing Frames Timber & Steel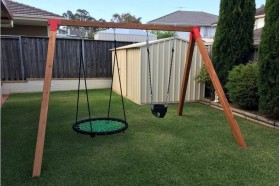 Swing frames, timber and steel - Swing Sets
Great selection of safe, strong and Australian made swing frames.
Special Needs Paly Equipment (SNPE) offers residential and commercial Swing Frames to choose from - Free Standing or In Ground swing frames.
Who doesn't love to swing? Swinging on a backyard swing set or a playground park swing frame is the ultimate fun experience for children. Remember when you were a kid, what it felt like to swing on the backyard swing set. Outdoor swings and backyard swing sets not only provide play opportunities for kids but also they help children with sensory integration. Swinging provides essential vestibular movement to help children achieve their developmental milestones, assists children being able to process sensory input.
We are offering a range of indoor and outdoor swings sets for therapy and sensory swings, autism swings, disabled swings, and swings for adults.
---
Categories
---
---
Showing 1 to 11 of 11 (1 Pages)