Residential Playground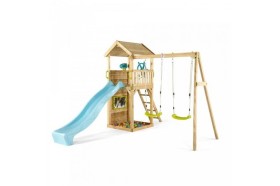 Residential Play Equipment - Sensory Playgrounds
Swing, slide, climb, spin, and glide are all fun things for children to experience while growing up. As most childhood experts agree, play is essential for proper childhood development, encouraging social, physical and psychological functioning for a healthier childhood.

Playful behavior is known to have positive effects on the brain and also helps a child's ability to learn. Providing children's play equipment and providing play spaces in your backyard helps encourage play opportunities for children to be able to learn.
Our range includes outdoor DIY boxed play sets with lots of climbing elements included and we also have Australian made larger play sets that are suited for older children to be able to play on.
Special needs Residential outdoor play equipment range.

---
---
Showing 1 to 11 of 11 (1 Pages)