Wheelchair Cubby House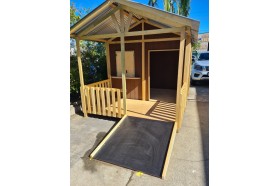 Kids love cubby houses its that simple. Even Mums love cubby house's, lets face it who doesn't love a cubby house!
That's why we built the wheelchair cubby house, so every child can also have the same play opportunity that we all had as a child playing inside a cubby house. Cubbies can become a world of adventure and fun, let children's imaginations soar with the wheelchair cubby house.

Special Needs Wheelchair Cubbyhouse. Australian made. This is a great wheelchair Cubby House. Suitable for power wheelchair weights.
Large doorway opening and ramp for wheelchair access.

---
---
Showing 1 to 1 of 1 (1 Pages)